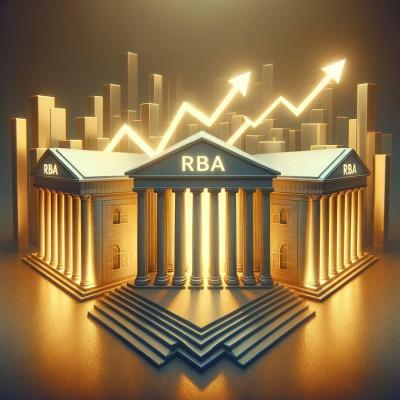 As the Reserve Bank of Australia (RBA) prepares for its November meeting, two major Aussie banks, ANZ and ING, have decided to hike interest rates, adding to the speculation of an increase in the official cash rate.
ANZ, the fourth largest bank in Australia, announced an increase in its fixed rates by up to 0.35 percentage points for both owner-occupiers and investors on terms of up to five years. Following suit, ING hiked its new customer variable rates by up to 0.08 percentage points and its fixed home loan rates by up to 0.40 percentage points for owner-occupiers.
The RBA board is set to meet on Tuesday to discuss the possibility of raising the cash rate. For the past four months, the RBA has maintained the rates at their current levels, with the last increase occurring in June. However, if a 0.25 per cent rise is approved, the official cash rate will reach 4.35 per cent.
The Growing Trend of Rate Hikes
In recent months, there have been more instances of rate hikes compared to cuts in fixed rates across several banks. ANZ's decision to increase its fixed rates is not an isolated event, according to RateCity.com.au research director Sally Tindall.
Tindall stated, "Over the last month, there have been significantly more hikes in fixed rates than cuts across the market, as banks factor in the rising cost of fixed rate funding."
ANZ's most recent rate increase has positioned the bank as one of the highest-priced options among the major four banks when it comes to lowest advertised fixed rates, except for its two-year loan term.
Tindall explained, "With only 4 percent of new and refinanced loans opting for a fixed rate, banks are unlikely to underprice these rates, as they would not attract new business."
As a result, ANZ has transitioned from offering some of the most competitive fixed loans among the major four banks' lowest rates to being among the least competitive in this category. However, Tindall believes that this move does not indicate a withdrawal from competition.
"When it comes to fixed rates, there is really no significant competition in the market," Tindall added.
Borrowers Remain Unaffected
Despite these recent fixed rate increases, borrowers may not have a cause for concern. Recent data from the ABS lending indicator indicates that only 4 percent of new home loans in September opted for a fixed rate.
This figure is significantly lower compared to July 2021, when 46 percent of new loans were fixed rate loans.
Overall, it seems that borrowers are less inclined to choose fixed rates at this time, potentially minimizing the impact of banks' rate adjustments.
As for the future, borrowers and industry experts will await the RBA's decision on the cash rate and monitor any further developments in the mortgage market.
Originally published as "ANZ, ING banks lift interest rates ahead of November RBA meeting"
Published:Saturday, 4th Nov 2023
Source: financialservicesonline.com.au
Share this news item:
New Challenges for Aussie Home Buyers


29 Nov 2023: .financialservicesonline.com.au

The latest ANZ CoreLogic Housing Affordability Report for November has revealed a 'triple whammy' effect on prospective home buyers in Australia. Affordability has worsened for not only buyers but also mortgage holders and renters, and unfortunately, the situation is predicted to deteriorate further by 2024.

- read more
Rise in Small Businesses Complaints to AFCA Indicates Growing Concerns


24 Nov 2023: .financialservicesonline.com.au

In the 2022-23 financial year, small businesses lodged a total of 3,807 complaints with the Australian Financial Complaints Authority (AFCA), indicating a significant increase of 9% compared to the previous year. As a result of these complaints, small businesses received $23.4 million in compensation and refunds, marking a 16% increase from the previous financial year.

- read more
Why Embracing AI Can Enhance Your Financial Advice Business


23 Nov 2023: .financialservicesonline.com.au

Sue Viskovic, the founder of consulting firm Elixir Consulting, highlights the importance of incorporating AI into financial advice businesses in an upcoming episode of the IFA podcast. While there may be apprehension regarding the role of digital tools in providing advice, Viskovic emphasizes the continued need for human interaction and trust.

- read more
New Insights on Inflation and the Australian Economy


22 Nov 2023: .financialservicesonline.com.au

Reserve Bank governor Michele Bullock has issued a warning, stating that inflation will continue to be a 'crucial challenge' for the Australian economy in the next one or two years. While many attribute the current inflationary pressures to supply-side constraints, Bullock emphasizes the underlying demand component that central banks are trying to address.

- read more
Gen Zs Financial Concerns Outweigh Other Generations


18 Nov 2023: .financialservicesonline.com.au

Financial matters are causing significant worry among Gen Z individuals, with a staggering 68% feeling the pressure according to the recent research findings by ASIC's Moneysmart program, surpassing the concerns of any other age group. This release coincides with the introduction of a fresh consumer awareness campaign by Moneysmart, aimed at empowering Gen Z individuals to quickly acquire fundamental financial knowledge and develop positive fiscal habits.

- read more
The Importance of Teaching Financial Literacy to Youth


17 Nov 2023: .financialservicesonline.com.au

During a recent outreach program at Penrhos College, Wealth Designers senior financial adviser Dawn Thomas asked a group of Year 9 students about the cohort with the least amount of superannuation. To their surprise, the answer was not what they expected.

- read more
AMP's New Business-Focused Digital Bank


17 Nov 2023: .financialservicesonline.com.au

AMP Group has announced its plans to launch a digital bank designed for sole traders and small businesses, expected to be operational by early 2025. This venture, aimed at disrupting a ready market, will see AMP partner with Engine by Starling, a UK-based neobank subsidiary, to leverage its modular platform for a scalable and robust infrastructure.

- read more
Study Finds 1 in 10 Aussies Unprepared for Financial Challenges


11 Nov 2023: .financialservicesonline.com.au

A recent study conducted by MLC reveals that while most Australians recognize the importance of superannuation in achieving financial independence, a significant portion of the population feels ill-prepared to overcome unexpected financial hurdles. The study, called the Financial Freedom study, shows that although many Aussies are actively working towards improving their financial wellbeing, additional assistance is needed to achieve financial objectives and adequately plan for retirement.

- read more
Understanding the Recent RBA Interest Rate Hike


08 Nov 2023: .financialservicesonline.com.au

Yesterday, the Reserve Bank of Australia (RBA) made the decision to increase interest rates once again. This move comes as inflation in Australia remains stubbornly high and more persistent than anticipated. While there has been some improvement in goods price inflation, the prices of various services continue to rise rapidly.

- read more