No Credit Check
:: Calculators
Caravan Loan Repayment Calculator
This calculator will help you to estimate monthly repayments on a caravan loan
Caravan Loan Details: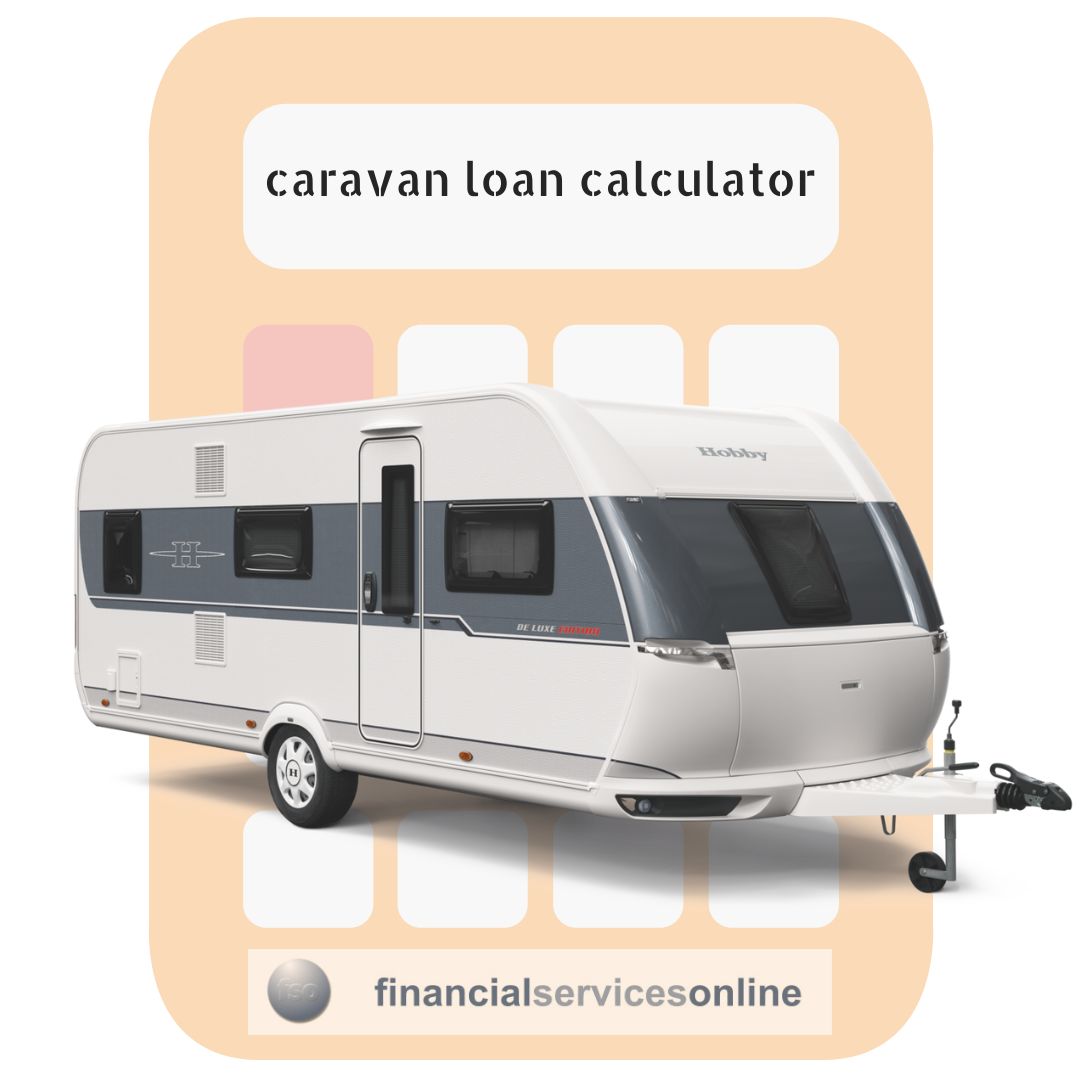 Important!
Caravan Loan Interest Rates differ from lender to lender and will depend on your individual circumstances (credit history, employment status, age, etc.). To find out if you qualify ... and for a free, personalised interest rate and repayment quote, please CLICK HERE
Caravan Loan Amortization Calculator
The following amortization graphs detail month-by-month data on the progress of the proposed loan. The first chart below examines the reducing loan balance over the course of the finance contract term. The second graph illustrates the portion of each monthly repayment allocated to payment of interest vs principal reduction.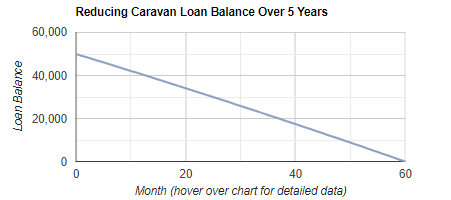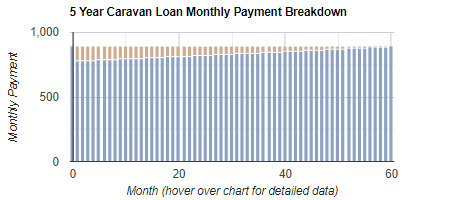 Share this calculator:
How Credit Card Balance Transfers Can Damage Your Credit Rating


Since the banks and finance providers have been castigated for the way they seemingly indiscriminately awarded credit to people who could ill afford it, the chances of being accepted for loans and credit cards have decreased. Concurrently, there is a greater focus on individual's being aware of how credit works and what their financial behaviors means in terms of a credit score and history.

- read more
Choosing the Right Bank


Financial institutions are located all around the world. If you are looking to open a bank account, whether that bank account is a transactional account or a savings account, you have a number of banking options.

- read more
Managing Credit Card Debt


If your credit card debt is starting to get out of control - or you simply want to know how to avoid potential credit card pitfalls, you are not alone. Managing credit cards is a problem faced by many who are now drowning in an ocean of debt. Here are some simple strategies that may be of help.

- read more
Loan Finance: How to Shop Around Without Damaging Your Credit


If you are considering taking out a loan, you wouldn't go out of your way to make it harder on yourself to get approved or to get a good interest rate, would you? Yet many loan applicants would enjoy a considerably better outcome on their loan application if they followed this important rule.

- read more
5 Credit Killers


A good credit score speaks volumes about your financial habits. It's the evidence most creditors need to evaluate your credit worthiness.

- read more
Co-Signing Loans - Risky Business


There may come a time in your life when you are asked to co-sign for a loan or credit card. If this is the case, there are several things to consider before making a final decision. Technically, you are putting yourself at risk of damaging your own credit in the event that the loan goes unpaid.

- read more
Credit Card Secret Guarantee


Most people use credit cards in some form or another but few truly appreciate one of the special features of credit cards that make using their credit card to insure their purchases.

- read more
New Challenges for Aussie Home Buyers


29 Nov 2023: .financialservicesonline.com.au

The latest ANZ CoreLogic Housing Affordability Report for November has revealed a 'triple whammy' effect on prospective home buyers in Australia. Affordability has worsened for not only buyers but also mortgage holders and renters, and unfortunately, the situation is predicted to deteriorate further by 2024.

- read more
Rise in Small Businesses Complaints to AFCA Indicates Growing Concerns


24 Nov 2023: .financialservicesonline.com.au

In the 2022-23 financial year, small businesses lodged a total of 3,807 complaints with the Australian Financial Complaints Authority (AFCA), indicating a significant increase of 9% compared to the previous year. As a result of these complaints, small businesses received $23.4 million in compensation and refunds, marking a 16% increase from the previous financial year.

- read more
Why Embracing AI Can Enhance Your Financial Advice Business


23 Nov 2023: .financialservicesonline.com.au

Sue Viskovic, the founder of consulting firm Elixir Consulting, highlights the importance of incorporating AI into financial advice businesses in an upcoming episode of the IFA podcast. While there may be apprehension regarding the role of digital tools in providing advice, Viskovic emphasizes the continued need for human interaction and trust.

- read more
New Insights on Inflation and the Australian Economy


22 Nov 2023: .financialservicesonline.com.au

Reserve Bank governor Michele Bullock has issued a warning, stating that inflation will continue to be a 'crucial challenge' for the Australian economy in the next one or two years. While many attribute the current inflationary pressures to supply-side constraints, Bullock emphasizes the underlying demand component that central banks are trying to address.

- read more
Gen Zs Financial Concerns Outweigh Other Generations


18 Nov 2023: .financialservicesonline.com.au

Financial matters are causing significant worry among Gen Z individuals, with a staggering 68% feeling the pressure according to the recent research findings by ASIC's Moneysmart program, surpassing the concerns of any other age group. This release coincides with the introduction of a fresh consumer awareness campaign by Moneysmart, aimed at empowering Gen Z individuals to quickly acquire fundamental financial knowledge and develop positive fiscal habits.

- read more
The Importance of Teaching Financial Literacy to Youth


17 Nov 2023: .financialservicesonline.com.au

During a recent outreach program at Penrhos College, Wealth Designers senior financial adviser Dawn Thomas asked a group of Year 9 students about the cohort with the least amount of superannuation. To their surprise, the answer was not what they expected.

- read more
AMP's New Business-Focused Digital Bank


17 Nov 2023: .financialservicesonline.com.au

AMP Group has announced its plans to launch a digital bank designed for sole traders and small businesses, expected to be operational by early 2025. This venture, aimed at disrupting a ready market, will see AMP partner with Engine by Starling, a UK-based neobank subsidiary, to leverage its modular platform for a scalable and robust infrastructure.

- read more
Study Finds 1 in 10 Aussies Unprepared for Financial Challenges


11 Nov 2023: .financialservicesonline.com.au

A recent study conducted by MLC reveals that while most Australians recognize the importance of superannuation in achieving financial independence, a significant portion of the population feels ill-prepared to overcome unexpected financial hurdles. The study, called the Financial Freedom study, shows that although many Aussies are actively working towards improving their financial wellbeing, additional assistance is needed to achieve financial objectives and adequately plan for retirement.

- read more
Understanding the Recent RBA Interest Rate Hike


08 Nov 2023: .financialservicesonline.com.au

Yesterday, the Reserve Bank of Australia (RBA) made the decision to increase interest rates once again. This move comes as inflation in Australia remains stubbornly high and more persistent than anticipated. While there has been some improvement in goods price inflation, the prices of various services continue to rise rapidly.

- read more
Find out now if you qualify and compare rates, offers and options from multiple lenders - without a credit check!
Debt Consolidation:
A means empoyed to renegotiate debt. By combining loans and outstanding bills, a person can consolidate debt with a single financial institution resulting in a single monthly repayment.