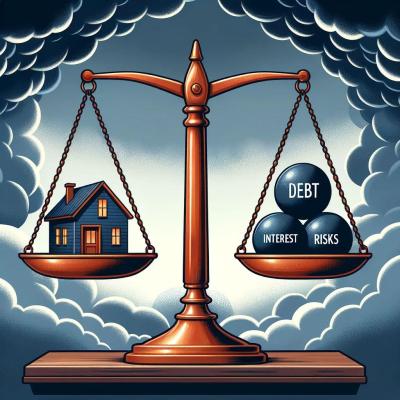 RBA governor Michele Bullock recently addressed the nation, downplaying the concerns about Australian mortgage stress.
In her maiden speech, she emphasized that only a small percentage of variable rate mortgage borrowers, around 5%, have expenses surpassing their incomes.
However, digging deeper reveals a different story.
The Discrepancy of Highly Leveraged Borrowers
Bullock acknowledged that the pressure on indebted households varies significantly depending on the level of leverage. Surprisingly, approximately 25% of highly leveraged borrowers with loans exceeding four times their income face the challenge of paying more for essential expenses and housing than what they receive in income.
This indicates that the situation is far more severe for a specific group of borrowers than for those with more modest levels of debt.
The Limitations of the Household Expenditure Measure (HEM)
It's important to note that the RBA used the Household Expenditure Measure (HEM) to downplay the severity of the situation. The HEM is a measure that reflects the median spend on absolute basics and the 25th percentile spend on discretionary basics, excluding rents and mortgage payments.
However, the HEM is based on the most basic standard of living and doesn't accurately represent households with mortgages. Moreover, it assumes that households have no other debts, which is often unrealistic.
In fact, the latest RBA Financial Stability Review estimated that 13% of variable rate borrowers experience a cost of living that exceeds their incomes when considering additional expenses like private health insurance and school fees.
The Unavoidable Impact of Fixed Rate Mortgage Resets
Despite the RBA's efforts to keep the cash rate on hold, Australia's fixed rate mortgage reset process is still ongoing and will continue until mid-2024. Consequently, average mortgage repayments will continue to rise across the country.
With Wednesday's CPI inflation data announcing higher-than-expected figures, the possibility of the RBA maintaining the cash rate at its current level seems unlikely. Further rate hikes could push more households underwater, exacerbating the mortgage stress situation.
The Ominous Cloud of Rising Unemployment
Undoubtedly, the biggest risk to Australian households is the steady rise in unemployment. Australia's record immigration numbers impose a demand of around 37,000 new jobs every month just to stabilize the unemployment rate, assuming a constant participation rate.
However, even if job growth slows down to the pre-pandemic average of 22,000 new jobs per month, Australia's unemployment rate could surpass 5% within a year, as indicated by independent economist Tarric Brooker's analysis.
When combined with the potential for further mortgage rate increases, the rising unemployment rate poses a grave threat to numerous Australian households already burdened by mortgage debt. The risk of financial distress looms large.
Published:Friday, 27th Oct 2023
Source: financialservicesonline.com.au
Share this news item:
New Challenges for Aussie Home Buyers


29 Nov 2023: .financialservicesonline.com.au

The latest ANZ CoreLogic Housing Affordability Report for November has revealed a 'triple whammy' effect on prospective home buyers in Australia. Affordability has worsened for not only buyers but also mortgage holders and renters, and unfortunately, the situation is predicted to deteriorate further by 2024.

- read more
Rise in Small Businesses Complaints to AFCA Indicates Growing Concerns


24 Nov 2023: .financialservicesonline.com.au

In the 2022-23 financial year, small businesses lodged a total of 3,807 complaints with the Australian Financial Complaints Authority (AFCA), indicating a significant increase of 9% compared to the previous year. As a result of these complaints, small businesses received $23.4 million in compensation and refunds, marking a 16% increase from the previous financial year.

- read more
Why Embracing AI Can Enhance Your Financial Advice Business


23 Nov 2023: .financialservicesonline.com.au

Sue Viskovic, the founder of consulting firm Elixir Consulting, highlights the importance of incorporating AI into financial advice businesses in an upcoming episode of the IFA podcast. While there may be apprehension regarding the role of digital tools in providing advice, Viskovic emphasizes the continued need for human interaction and trust.

- read more
New Insights on Inflation and the Australian Economy


22 Nov 2023: .financialservicesonline.com.au

Reserve Bank governor Michele Bullock has issued a warning, stating that inflation will continue to be a 'crucial challenge' for the Australian economy in the next one or two years. While many attribute the current inflationary pressures to supply-side constraints, Bullock emphasizes the underlying demand component that central banks are trying to address.

- read more
Gen Zs Financial Concerns Outweigh Other Generations


18 Nov 2023: .financialservicesonline.com.au

Financial matters are causing significant worry among Gen Z individuals, with a staggering 68% feeling the pressure according to the recent research findings by ASIC's Moneysmart program, surpassing the concerns of any other age group. This release coincides with the introduction of a fresh consumer awareness campaign by Moneysmart, aimed at empowering Gen Z individuals to quickly acquire fundamental financial knowledge and develop positive fiscal habits.

- read more
The Importance of Teaching Financial Literacy to Youth


17 Nov 2023: .financialservicesonline.com.au

During a recent outreach program at Penrhos College, Wealth Designers senior financial adviser Dawn Thomas asked a group of Year 9 students about the cohort with the least amount of superannuation. To their surprise, the answer was not what they expected.

- read more
AMP's New Business-Focused Digital Bank


17 Nov 2023: .financialservicesonline.com.au

AMP Group has announced its plans to launch a digital bank designed for sole traders and small businesses, expected to be operational by early 2025. This venture, aimed at disrupting a ready market, will see AMP partner with Engine by Starling, a UK-based neobank subsidiary, to leverage its modular platform for a scalable and robust infrastructure.

- read more
Study Finds 1 in 10 Aussies Unprepared for Financial Challenges


11 Nov 2023: .financialservicesonline.com.au

A recent study conducted by MLC reveals that while most Australians recognize the importance of superannuation in achieving financial independence, a significant portion of the population feels ill-prepared to overcome unexpected financial hurdles. The study, called the Financial Freedom study, shows that although many Aussies are actively working towards improving their financial wellbeing, additional assistance is needed to achieve financial objectives and adequately plan for retirement.

- read more
Understanding the Recent RBA Interest Rate Hike


08 Nov 2023: .financialservicesonline.com.au

Yesterday, the Reserve Bank of Australia (RBA) made the decision to increase interest rates once again. This move comes as inflation in Australia remains stubbornly high and more persistent than anticipated. While there has been some improvement in goods price inflation, the prices of various services continue to rise rapidly.

- read more